Old City Ghosts
(for downtown ghosts, see or our original Shadow Side Tour)
The lively entertainment section now known as the Old City wasn't always so friendly. The neighborhood has a history of dark times and dark deeds, and the remnants aren't just in the architecture. Formerly known as the Bowery, the district was home to saloons, dance halls, pool rooms, and bars, where famous gunmen, thieves, ladies of the evening, and troublemakers of all kinds bumped elbows with naïve travelers and honest working folk. Life here was violent—and often short.
Highlights:
Revenants of Red Summer: One horrible night in 1919, the streets ran with gore as Knoxville endured a violent race riot, and citizens of both races struggled with guns, knives, and brickbats. Hear about the threads of jealousy, murder, and revenge that ignited the turmoil, and the phantoms that still lurk.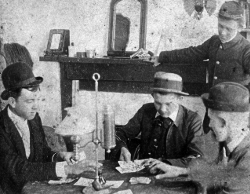 Deadly Dives: Stabbings and shootings occurred almost daily in the honky-tonks and dens of vice near Central and Jackson, where customers could buy anything from corn liquor to cocaine. Drunken brawls often turned deadly, when hot words turned into hot lead. Shades of visiting gunfighters and home-grown killers may linger in the dusky alley ways.
Blood on the tracks: Though passenger service is long gone, the railroad runs through the Old City, the rumbling freight cars bringing back memories of a suspicious death and an unsolved mystery, of a terrible train wreck and its aftermath, immortalized in song. Who knows what other specters might be raised at the sound of a train whistle?
Details
Proceeds help support The Knoxville History Project
90 minutes
Meet in front of  The Phoenix Pharmacy and Fountain, 418 S Gay St
Reservations required (book tickets below or call 865-309-4522)
Caution: this tour includes mild uphill walking and uneven pavement.
– Adults: $15
– Children 6-12: $10
– Group rates available
Contact us about other dates and group tours.
Tours available by appointment for groups as small as four adults.
Call 865-309-4522 to schedule a tour.