Ten years before Tennessee became a state, David Wessels Howell planted an orchard and garden on land where the Cherokee still roamed. This was the beginning of a family business that would span two centuries, from the frontier days through the Civil War and the industrial age to modern times. Now the Howell family's legacy has been preserved as a public garden spanning 47 acres, with walking trails and hand-laid stone walls that cross through sunny meadows and leafy glades among an astonishing variety of trees and plants. Come walk with us and hear its stories and secrets.
Highlights: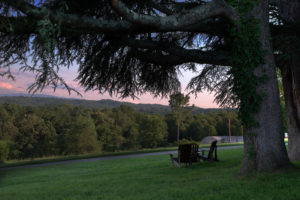 Joe Howell House—now serving as the garden's Visitor Center. Hear the history of the Howell family in America and the new territory that would become Tennessee.
The Mule Barn—Home to livestock and wagons in the old days, now surrounded by the Center for Urban Agriculture, Outdoor Classroom, and Pollinator Garden as new generations learn sustainable techniques to bring life from the soil.
Martha Ashe Garden—a favorite spot for taking photographs, enjoy exploring the stone roundhouses and hearing the story of how and why they were built.
Plus the Cash-and-Carry House, Dogwood Trail, a secret memorial, and much more!
Details:
Proceeds help support the garden
~90 minutes
Meet at the Knoxville Botanical Garden visitor center, 2743 Wimpole Ave
Reservations required (book tickets below or call 865-309-4522)
Adults: $15
Children 6-12: $10
Group rates available
Get Tickets
Contact us about other dates and group tours.
Tours available by appointment for groups as small as four adults.
Call 865-309-4522 to schedule a tour.